QUEER FRINGE @ THE NEW – SYDNEY FRINGE FESTIVAL 2017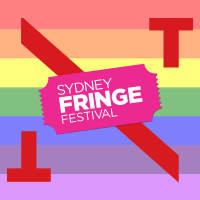 New Theatre is thrilled to be continuing our relationship with the Sydney Fringe Festival as a premier satellite venue.
In 2017, we're curating Queer Fringe @ The New, putting the focus on LGBTIQI stories. New Theatre has a proud history of commitment to the LGBTQI community, recognized with the prestigious ACON Honour Award for Arts & Entertainment in 2016.
Queer Fringe @ The New will run 12 – 23 September. We're keen to hear from artists working in all fields of performance – theatre, cabaret, stand-up, music, dance – who would like to present at our iconic, high-profile Inner West venue.
Selected productions will be presented in rep across the two weeks, with between 1 – 6 performances each.
Shows should ideally be no longer than 90 minutes in duration, and designed for quick get-in and turn-around.
What you get:
Use of our 150 seat (148 seats, 2 wheelchair spots) 132 sq m black box theatre
Support of our Technical Manager at your bump-in for a 4/h call
Use of our stock stage, sound and lighting equipment
Reduced rates for rehearsal room hire and theatre workshop, subject to availability
Online ticketing, box office and front-of-house services

What you pay:
We charge $120+GST per performance (payable in advance), plus 35%+GST of gross box office or $125+GST per performance, whichever is greater.
You'll be responsible for marketing and publicity to get those punters through the door, but we'll support your production with a designated page on our website, and through our various social media platforms and marketing networks, including our eNews which goes out to 5K+ supporters.
If you have any questions, please contact: A/Theatre Manager Alice Livingstone at manager@newtheatre.org.au or 9519 3403 Mon – Friday 11am – 5pm.
How to apply:
If you are interested in being considered as part of Queer Fringe @ The New, please submit an Expression of Interest that includes:
a pdf of the script
a brief description of your proposed production and its relevance to a LGBTQI audience and to New Theatre (for information about our history and ethos, visit the About Us page on our website)
biographies of key people involved (writer, director, producer, designers, cast), and whether any of your team identifies as LGBTQI
proof of successful application for rights
technical requirements
marketing and publicity plan
Send your EOI and submission to manager@newtheatre.org.au with QUEER FRINGE in the subject line.
Submissions close 30 April 2017 at 5pm. The successful applicant will be advised by the end of May. 
PLEASE NOTE: artists must register to be part of Sydney Fringe Festival, at which time you can nominate New Theatre as your preferred venue. Sydney Fringe Festival registrations close Friday 31 March.
We look forward to hearing from you!
VENUE HIRE
Venue for Hire: Auditorium, Jean Blue rehearsal room & Bar/Foyer
We can accommodate one-off events, readings, auditions, photo and film shoots, seminars and rehearsals.
Building Specs
Seating Capacity: 148 (plus 2 designated wheelchair places)
Stage Size: 132 Sq. Meters
Large rehearsal room*
Full equipped workshop*
*not included in base hire fee
Rates available upon request
For rates and more information, please contact A/Theatre Manager Alice Livingstone: manager@newtheatre.org,au or 9519 3403