THE SHAPE OF THINGS
By Neil LaBute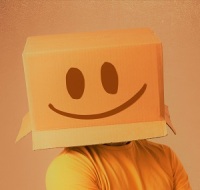 A staged, rehearsed reading as part of NT Ed 2017
Adam is nerdy, insecure and a bit of a loser with women. When he meets Evelyn, a bright, self-assured graduate art student, he can't believe his luck when she shows an interest in him.
With her encouragement, he beings a 'self-improvement' regime: exercising, ditching the junk food, updating his wardrobe, getting contact lenses and gradually gaining in self-confidence.
His best friend Phillip approves of the 'new, improved Adam', while Phillip's girlfriend Jenny begins to find herself attracted to him. But Evelyn hasn't finished with her transformation of Adam. How far can she convince him to go? And how can she make him prove that he's more devoted to her than his friends?
This modern morality tale riffs on the Frankenstein myth to examine the nature of art, the meaning of trust, and people's willingness to do anything for love.
DIRECTOR
Debbie Smith
PERFORMANCES
Wednesday 10 May 11:30am and 7:30pm
REHEARSALS
Saturday 6 May 10am – 6pm
Sunday 7 May 10am – 3pm
Monday 8 May 6pm – 10pm
Tuesday 9 May 6pm – 10pm
ROLES AVAILABLE
Adam Sorenson, early 20s
Evelyn Ann Thompson, early 20s
Jenny, early 20s
Phillip, early 20s
AUDITION DATES
Saturday 29 April 10am – 6pm
Sunday 30 April 10am – 3pm
Callbacks Monday 1 May 6pm – 10pm
TO BOOK AN AUDITION
It is essential that you read the play before submitting an Expression of Interest. To request a perusal copy of the script, please contact manager@newtheatre.org.au
Email your EOI to shapeofthings2017@gmail.com  with AUDITION in the subject line
Please include:
a current headshot and resume
the role/s you are interested in
your preferred audition time/date (no guarantees, but we will try to accommodate you)
state if you are a current New Theatre member
PLEASE NOTE
New Theatre is a volunteer-based organisation and there is no payment for this reading.
ABOUT THE DIRECTOR
Debbie has directed about 25 full length plays and assisted on dozens more as AD, SM, choreographer, set designer and PM. In both 2015 and 2016, she directed for Short and Sweet Sydney and the plays were selected for the Gala Finals. She has directed for Genesian Theatre Company, Twin Town Players, Riverside Lyric Ensemble, New Theatre Education programme, Hunters Hill Theatre and Lane Cove theatre. Her recent productions as director include Frankenstein, A Midsummer Night's Dream, Cosi and Far from the Madding Crowd; and as choreographer for Our House.