BY TERENCE RATTIGAN
8 AUGUST – 9 SEPTEMBER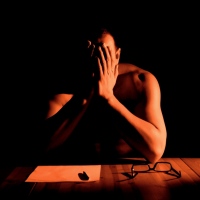 "The awful thing is that we're still running away"
David Scott-Fowler is a would-be historian, suffering writer's block and mired in an alcoholic haze, his self-destructive lifestyle ruining his marriage.
When he falls into a relationship with the much-younger Helen, an idealist who is determined to 'save' him, events take on a tragic turn.
A searing study of a lost generation, Rattigan's play, written in 1939, investigates the young people who survived World War One, lived life to the full in the hedonistic 1920s, only to find themselves in middle-age, disillusioned and on the brink of another war.
"One of the supreme dramatists of the 20th century" The Guardian
[row_in]
[span4]
CREATIVE TEAM
Director Giles Gartrell-Mills
Set Designer John Cervenka
Costume Designer Brodie Simpson
Sound Designer Liam Kemp
[/span4]
[span4]
CAST
To be announced
[/span4]
[/row_in]
[row_in]
[span4]
TIMES
Previews Tue 8 & Wed 9 Aug, 7:30pm
Thu – Sat 7:30pm, Sun 5pm
Final performance, Sat 9 Sep 2pm
[/span4]
[span4]
TICKETS
Full $35
Concessions, Groups (6+) $30
Members $22
Previews, Student Rush, Thrifty Thursdays $20
[/span4]
[/row_in]
An amateur production by arrangement with Dominie Drama on behalf of Nick Hern Books